What Makes Windows Energy Efficient?
Window Glazing or Number of Glass Panes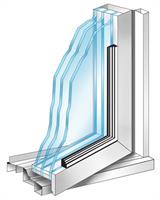 Originally, windows only had one pane of glass. In Calgary, unless you have a very old historical home, it's unlikely you'll have any single-pane windows anymore because they are very poor insulators. Double-glazed or windows with two panes of glass are the most common. Now triple-glazed windows are becoming much more popular. More panes of glass increase the insulation quality of windows because of the space between the glass. It's a lot like wearing multiple layers of clothing on a cold winter day. Another benefit of triple-glazed windows is that they are also better sound insulators. Outside noise will be suppressed much more effectively with better quality windows.
Insulating Gases
The insulating qualities, and therefore, energy of windows can be substantially improved by removing the air between window panes and filling the space with an insulating gas.
Argon is most common insulating gas because it conducts 60 to 70% less heat than that of air, is non-toxic and inexpensive. Krypton gas is found in higher quality windows because it is a better insulator but it is also more expensive.
Window Coatings
There have been large improvements in window technology over the years. One of the most impactful has been the coatings applied to windows to improve their energy efficiency. Low-E coatings, or low emissivity, is a thin coating of metallic particles that reflects heat back and reduces UV radiation. In summer months, it'll reflect heat outside and the opposite in winter. The coating is invisible to the naked eye and won't affect the amount of visible light entering your home.
One important thing to note is that not all window coatings are equal. Higher quality coatings reduce heat transfer more effectively. It is important to compare all performance coefficients for the windows you are considering. The Westeck Window's Low-E - i89 coating is one of the best performing in the industry.
Window Frames
While most of the surface area of your window is glass and the number of panes, insulating gas and coating have a major influence on efficiency, the frame can also transfer heat. It is important to choose a well insulated window frame to minimize heat transfer.
Correct Window Installation
We can't stress enough the importance of quality window installation. The best quality windows can have much of their energy efficiency negated with low quality installation. You want to avoid retrofitting new windows inside old frames if possible. This will reduce the window glass size and doesn't address insulation issues of the old window frame that was probably installed decades earlier. Drafts or water leakages around the original frame can't be eliminated unless the entire old frame is replaced.